SELENA
Owner / Stylist Level 4
After training at Vidal Sassoon and gaining some solid work experience, Selena decided to live for her passion and look for a challenge: establishing The Curious Comb in 2009.
Selena specialises in subtle and creative colouring & Momoko permanent straightening.
Outside of work she loves shopping, travelling and exploring the latest goings-on in London.
*Selena works: Mondays, Tuesdays, Wednesdays & Fridays.*
---
CHRIS
Stylist Level 3 
Chris entered our beloved industry as front of house in 2008 but quickly learned that he wanted to be styling instead of typing! He completed his training at Michael John and now he is the man in our house 🙂
Chris specialises in advanced creative colouring such as vivid bright colours and balayage, as well as Great Lengths hair extensions.
Outside of work he loves socialising, and is an aficionado of the Greenwich pub scene.
---
ELLIS
Stylist Level 2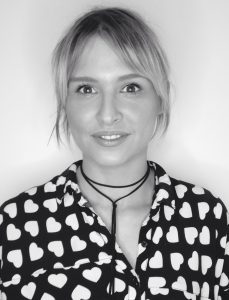 Ellis is a bubbly Welsh lady with almost 8 years' experience and she's been trimming and colouring Londoners hair for over three years now. She loves colouring techniques that would leave you with that beautiful sun-kissed look.
Ellis is specializing in glam highlights and Nanokeratin.
In her spare time she enjoys reading, baking & a good Netflix binge.
*Ellis works: Mondays, Tuesdays, Wednesdays, Fridays & Saturdays.*
---
NINA                                                                                                                                                                                                                                                                                      Stylist Level 2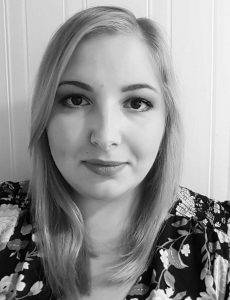 Nina was born into the world of hairdressing – started in her mum's salon in Finland then moved to London in 2003, continuing her career at Toni and Guy.
Nina Specialises in Colouring, Wedding and Special occasion hair and Momoko Permanent hair straightening.
Outside of work she loves Yoga, Meditation, being outdoors and travelling
*Nina works: Tuesdays, Wednesdays, Thursdays,  & Saturdays.*
---
NHI
Stylist Level 1

Nhi got involved in the industry 7 years ago and loved the bubbly salon environment so much that she decided to stay and develop her hairdressing skills further!
Nhi specialises in Ladies and Children's Cuts.
Outside of work she loves travel, arts & crafts and reading.
*Nhi works: Mondays, Tuesdays, Fridays & Saturdays
---
---
VIVI
Stylist Level 1

Vivi fell in love with hair as a child back in Cameroon where she learned her braiding and plaiting skills. After teaching for a few years, she decided that hairdressing was her call and now she is back in the industry.
Vivi loves creative colouring and plaiting.
Outside of work she loves hair, fashion, reading, travelling & blogging.
*Vivi works: Mondays, Tuesdays, Wednesdays, Fridays and Saturdays*
---
AISHA                                                                                                                                                                                                                                                                                   Receptionist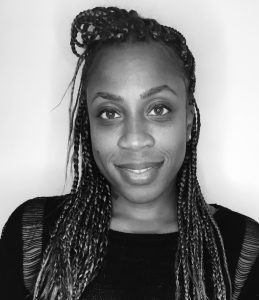 One third of our reception team, Aisha joins us after working for 5 years within the hair and beauty industry as beauty therapist and salon manager.
Outside of work Aisha works as a freelance Make up Artist and Beautician. She also enjoys socialising, spending time with her family and going to the gym.
*Aisha works: Tuesdays, Wednesdays, Thursdays and Saturdays*
---